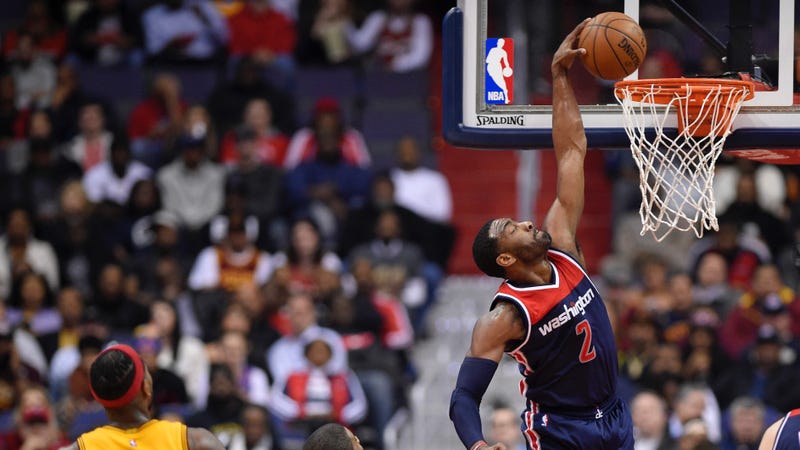 Take heart, D.C. fans. Sometimes the best basketball player alive is just gonna throw in a one-legged 25-foot turnaround fallaway jumper high off the glass to tie the game with 0.3 seconds left in regulation in your building. It happens! Or anyway, it happened.
(And if it seems particularly unfair, remember that he bricked an uncontested point-blank layup a few seconds before that would have given the Cavs the lead. Live by the wild, inexplicable swings of LeBron James's fortune, and die by them as well.)
Moral victories are trash. On the other hand, perhaps the most poisonous artifact of decades of organizational dysfunction and incompetence is the sour fear—or expectation, or assumption—that any success your team grinds out, any flickering signs of nascent adequacy it shows, are illusions at best, and setup for a cruel punchline at worst. Odds are, if you're a Wizards fan like I am, at least once in these last eight weeks of steady good play you've found yourself going back over the list of results, looking at the opponents' win-loss records and point differentials and net ratings and injury reports, not quite sure whether you're looking for proof that the Wizards are for real or for proof that they're not. Warriors fans are not performing this ritual self-torture. Spurs fans are not. Cavs fans are not. They know.
Well, it took a nationally televised loss on their own court and the snapping of a 17-game home winning streak to put it beyond doubt, but: the Wizards are good. Last night their still-young stars, John Wall and Bradley Beal and Otto Porter, absorbed a furious third-quarter push by the defending champs, traded haymakers with them right down to the last moments of a wild, delirious fourth, and … yeah, okay, faltered in overtime and lost, even after LeBron fouled out. Shut up. It was a fabulous game, okay? It was a fabulous game that brought out the best in what very clearly were two good teams. Meaning that both of them were good. Including the Wizards. Who are good.
And so, today, that means angsting over stuff like Otto Porter's missed free-throw in the final minute that left the door open a crack for the Cavs. Or the last-ditch inbounds play with 0.3 left on the clock, when Porter's lob pass toward the basket hit the rim for a violation instead of reaching John Wall's hands for a spectacular game-winning tip-in. Or whether Bradley Beal should have fouled LeBron on the catch instead of letting him rise for the game-tying three-pointer. The happy angst of fans who believe, with good reason, that their team is playing meaningful basketball games, instead of the more dismal and familiar kind of angst, over stuff like whether the organization should raze the roster now or wait until the offseason. This is good! The Wizards are good.
(The Cavs are better.)
Source: http://deadspin.com/the-wizards-are-for-real-1792084190