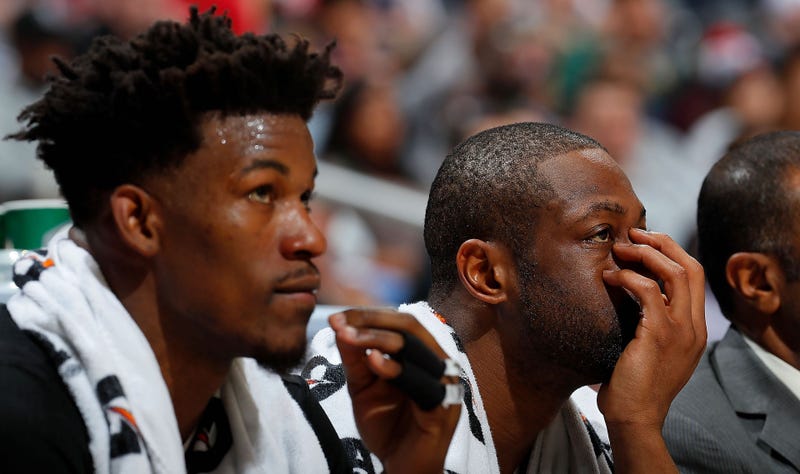 The Chicago Bulls attempted to halt their public meltdown on Friday and get their season back on track, but from the comments of all those involved, it doesn't seem like it will be quite so easy.
After Wednesday night's loss to the Hawks, Jimmy Butler and Dwyane Wade both criticized the effort level of their teammates, while yesterday Rajon Rondo unfavorably compared Butler and Wade as leaders to former teammates Kevin Garnett and Paul Pierce on Instagram.
In an effort to clear everything up, Bulls GM Gar Forman—who seems to loathe talking to the media and usually stays in the shadows—spoke with reporters at practice today. He said that Wade, Butler, and Rondo's public comments were "unacceptable," and reiterated that they were expected to keep such grievances behind closed doors. Forman didn't take any questions, and Bulls coach Fred Hoiberg later ducked a question about whether Forman avoiding questions demonstrated a lack of accountability within the team.
Jimmy Butler told reporters he doesn't regret his comments, enjoys controversies, and can't say whether he'll stop publicly airing dirty laundry:
Dwyane Wade refused to answer whether Hoiberg has the support of the locker room:
And Rajon Rondo revealed that he, Wade, and Butler had been fined, but didn't seem particularly broken up about it:
Sounds like the Bulls still have some issues to work through.
Source: http://deadspin.com/the-bulls-tried-clearing-things-up-but-still-sound-lik-1791705843