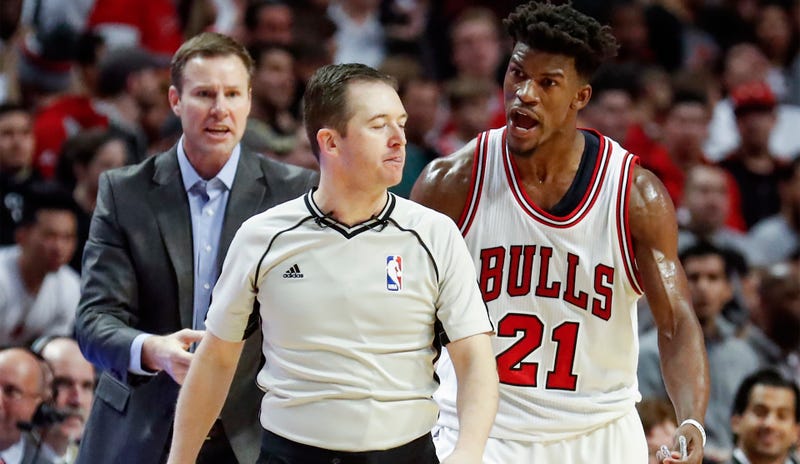 A whole season's worth of frustration came to a head for the Chicago Bulls tonight. Chicago is 23-24, just a hair ahead of the Milwaukee Bucks for the eighth seed, and they have an indisputably worthy all-star starter in Jimmy Butler. Yet the team is clearly harboring some internal tensions and tonight they all came gushing out.
This evening's 119-114 loss to the Hawks was an extremely in-character one for the Bulls: Butler and Dwyane Wade combined for 73 points and nearly two-thirds of Chicago's made shots, the team's point guards did nothing, the defense gave up 41 points in the fourth quarter (the Hawks ended the game on a 19-4 run), and Chicago had Nikola Mirotic and Paul Zipser, not Wade or Butler, take critical late-game shots. Butler briefly expressed his frustration with Fred Hoiberg during the game, and he and Wade went off afterwards.
That's a pretty harsh way to call out your teammates for being lazy, your coach for mismanaging everyone, and your front office for cobbling together a band of ill-fitting parts, and Butler and Wade surely intended to give the franchise the kick in the ass that it needs right now. As their recent point guard drama shows, Hoiberg is still trying to get a handle on his roster, which is not encouraging 47 games into the season. The Bulls still boast one of the game's deepest frontlines, but they remain frustratingly uneven. If there was a market for Rajon Rondo, the Bulls could look for the shooting and wing defending help they need (flipping Tony Snell for Michael Carter-Williams doesn't look very smart right now) but his value is more or less dead. The Bulls should, based on the level of talent that they have, make the playoffs, but if they can't find a way to make the most of their misshapen roster, then this will end ugly just like the Thibodeau era did.
Source: http://deadspin.com/the-bulls-are-melting-down-1791643301