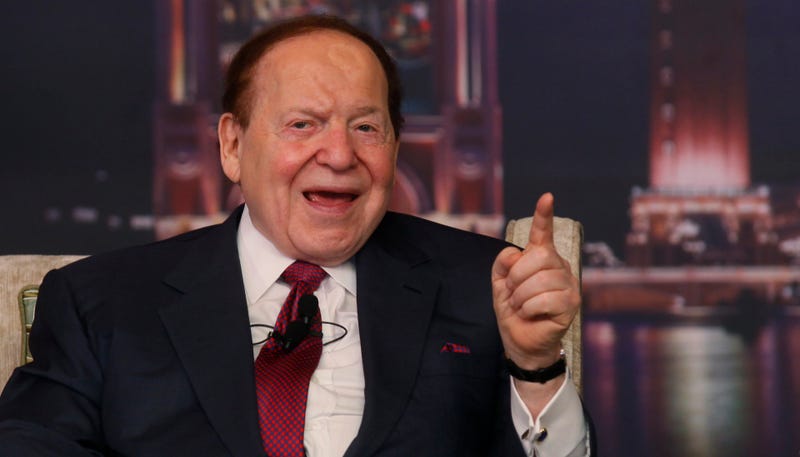 Famed GOP megadonor and newspaper-destroying toad Sheldon Adelson has backed out of the deal to finance a new Las Vegas stadium for the Oakland Raiders. Adelson was initially slated to pay for $650 million of the $1.9 billion stadium, with the state of Nevada on the hook for $750 million and the Raiders prepared to kick in half a billion. However, even after the deal was set, Adelson and Raiders owner Mark Davis were still haggling over the precise terms of their arrangement. It appears that the Raiders finally asked for too much, so Adelson is taking his ball and going home (presumably to keep trying to get some extremely right-wing officials into power by sheer force of financial muscle).
The Oakland Raiders came before the Las Vegas Stadium Authority last week with a proposed lease agreement that has sent shockwaves through our community.

It was certainly shocking to the Adelson family. We were not only excluded from the proposed agreement; we weren't even aware of its existence.

In addition to being discouraged by the surprise submission, I was deeply disappointed for the disregard the Raiders showed our community partners, particularly UNLV, through the proposed agreement.

It's clear the Raiders have decided their path for moving to Las Vegas does not include the Adelson family. So, regrettably, we will no longer be involved in any facet of the stadium discussion.

While this is not the result my family was hoping for, I am very appreciative of the countless people who have given considerable time and energy to this process, especially so many of our elected officials who have made this a top priority for Southern Nevada.
KSNV's John Treanor reports that the Raiders' confidence is "thin" after the departure of their ghoulish benefactor, while Clark County Commission chair Steve Sisolak told the Nevada Independent, "This is not a wrench in the wheel, the wheel fell off. This is an enormous setback in my opinion."
However, the Las Vegas Review-Journal reports that the team told the Las Vegas Stadium Authority board that they had a new partner lined up should Adelson balk.
Earlier this month, team representatives told the Las Vegas Stadium Authority board the stadium's construction would be financed with Goldman Sachs — with or without the Adelsons as partners.
Nevada governor Brian Sandoval said that the state wouldn't allow themselves to be robbed any further by the Raiders:
The NFL's relocation committee will meet in March and vote on the Raiders' proposed move. Out of the NFL's 32 owners, 24 must vote for the move for it to be approved. Even if the Raiders truly do have access to someone with $650 million to burn on a new stadium, the rest of the NFL's owners will surely be less confident in the massive relocation deal without the involvement of Adelson. Meanwhile, the Oakland city council is quietly moving forward with a proposal of their own.
Source: http://deadspin.com/sheldon-adelson-pulls-out-of-las-vegas-stadium-deal-th-1791805235