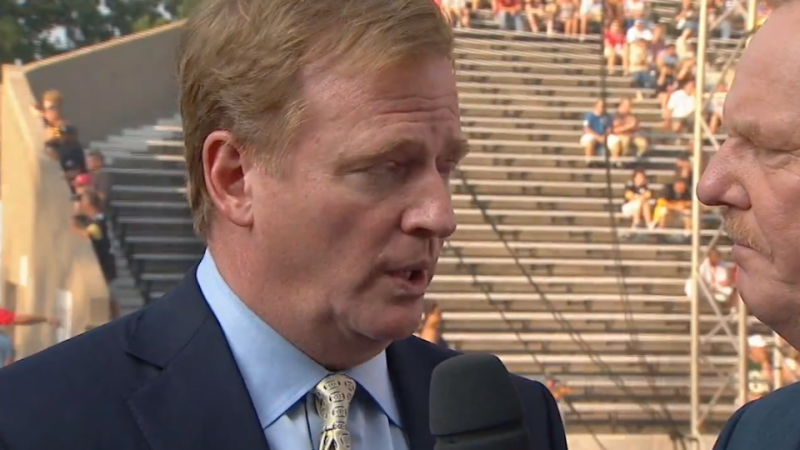 Roger Goodell had a chat with repugnant putz Colin Cowherd today on his show, and, among other topics, the NFL commissioner defended the quality of Thursday games.
Cowherd said he was not sold that the games on short rest were necessarily worse, citing fewer penalties and higher completion percentages to combat the "media narrative." These two specific categories wouldn't account for running backs, who absorb more hits and tackles on offense, and it ignores that the quality of the games can be seen by actually watching the games, but okay—apparently Cowherd enjoys the Thursday-edition Los Angeles Rams without gritting his teeth, because he said, "We do think the games are pretty darn good." Goodell agreed.
"We're more than just optics here," Goodell said. "We're into facts. So, go to the same statistics, because you're right about the quality of the games on Thursday night. There are actually less penalties, less turnovers—almost by every barometer, the quality of the game is better on Thursday night."
Goodell admitted that not every game would be competitive, and maintained that there was no increased risk of injury for players in Thursday games. The topic was discussed at around the eight-minute mark of the video:
Until ratings tank—really tank—the NFL seems fine with pretending that Thursday games are anything a national audience wants to watch, because why give up control of a third night of the week? Hey, look over there: new uniforms!
Additionally, Cowherd asked Goodell why he didn't go to the AFC Championship Game at the Patriots' stadium and Goodell gave a nonsense answer about focusing on the players.
Source: http://deadspin.com/roger-goodell-insists-that-thursday-games-are-not-ass-1791626386