Much of the blame for the Falcons' monumental choke job in Super Bowl 51 fell on Kyle Shanahan for his aggressive play-calling, and that's fair. It's screamingly obvious Atlanta should have run the ball more or milked the clock to keep Tom Brady and the Patriots from even having a chance to storm all the way back. But this easy analysis elides the fact that New England's defense still had to stop Atlanta several times in the game's final 17 minutes.
How did the Pats do it, after giving up three scoring drives in the first half-plus? They dialed up a few more five- and six-man blitzes, but by and large they stuck with the script they had used for much of the game. And on what Bill Belichick himself described as the game's "key play"—Dont'a Hightower's strip-sack of Matt Ryan, which gave the Pats a short field from which to make it a one-score game—the Patriots took advantage of a simple breakdown in execution by Atlanta.
"Too aggressive? No. I thought Kyle did a good job," Ryan said of Atlanta's play-calling. "I thought we played the way that we play. We always play aggressive and play to win and we had opportunities as players." There is truth to what Ryan said, and in a parallel universe where one single block was made, the World Champion Falcons would now be getting praised for going for the Patriots' throats.
---
Ryan played a terrific game throughout. In the first half, he posted a perfect passer rating. For the game as a whole, he finished with a passer rating of 144.1, the best by a losing quarterback in Super Bowl history, and the fourth-best by any quarterback in a Super Bowl, win or lose. The Falcons' offense was historically good throughout the regular season and the playoffs, and yet Ryan's Super Bowl yards per attempt (12.35) and adjusted yards per attempt (14.09) were better than all but two other games he played all year. And he did this even as the Patriots were in his face all night. Gauging what constitutes pressure on a quarterback can be subjective, but Greg Bedard of Sports Illustrated estimated that Ryan saw pressure on 53.6 percent of his dropbacks, while Pro Football Focus had the number at 57.1 percent. Either way, it was a lot.
Throughout the game, the Pats moved players in their front seven. Hightower may be listed as a middle linebacker, but he frequently lined up against the Falcons on the outside. And on defensive end Trey Flowers' ginormous fourth-quarter sack—the one in that crucial sequence in which Atlanta went 23 yards backward—Flowers was lined up on the inside and simply ran past right guard Chris Chester. It was only Chester's third play after Ryan Schraeder had gone down with an ankle injury, and Chester's mistake left center Alex Mack, playing on a broken leg, hopelessly chasing Flowers into the backfield: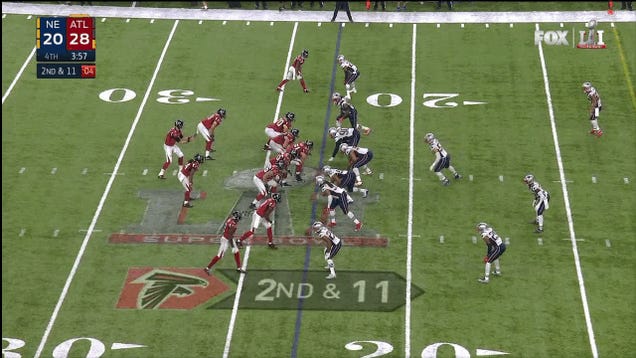 And while it's true the Falcons should have run the ball more—Shanahan inexplicably called just four(!) running plays after Atlanta built a 28-3 lead—Flowers also had two giant run stops in short-yardage situations. Late in the third quarter, he brought down Coleman for a 1-yard loss on second-and-1. And on second-and-2 on the play before Hightower forced Ryan to fumble, he assisted with Logan Ryan to limit Coleman to a one-yard gain.
But New England got pressure on Ryan from the very beginning. Here, on the Falcons' second possession of the game, Hightower got a quick first step to put left tackle Jake Matthews on his heels. Hightower then used his hands to get past Matthews and into Ryan's face. The play resulted in a quick completion to fullback Patrick DiMarco that went for a first down, but it was a sign of what was to come.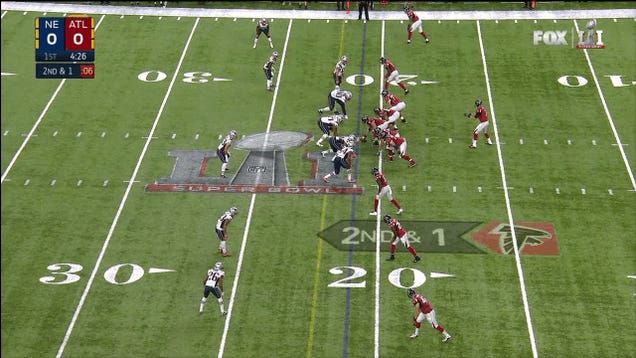 Flowers had a third-down sack on Atlanta's first possession. And defensive lineman Alan Branch got another one on third down the second time the Falcons had the ball. Watch how the Patriots went with a zone-blitz look by having six defenders at the line of scrimmage before dropping three into coverage at the snap: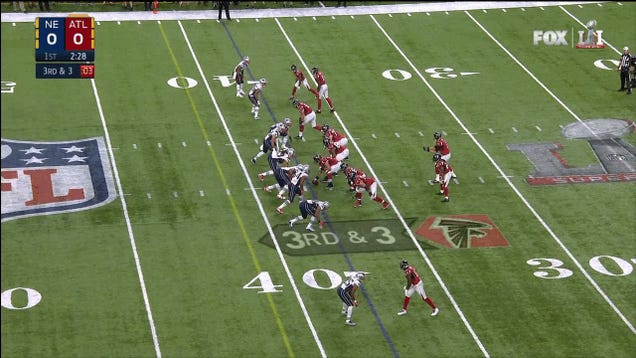 It was that coverage that forced Ryan into holding the ball, stepping up in the pocket, and right to where Branch could get at him. No one was open: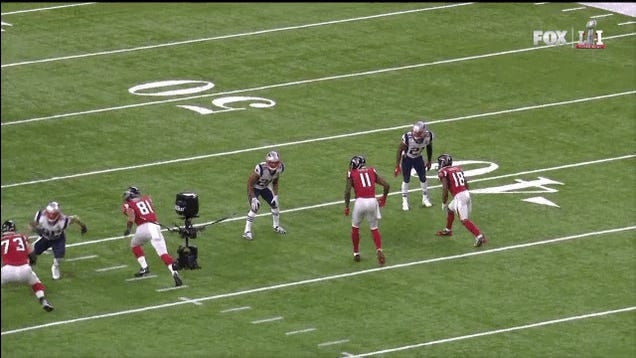 On the first possession of the second half, the Patriots got off the field on third down when cornerback Eric Rowe broke up a short pass along the sideline intended for Taylor Gabriel. But Pats defensive end Chris Long overpowered Matthews and hit Ryan as he delivered his throw: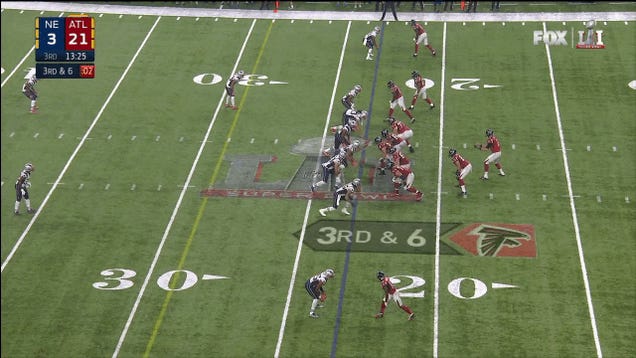 See?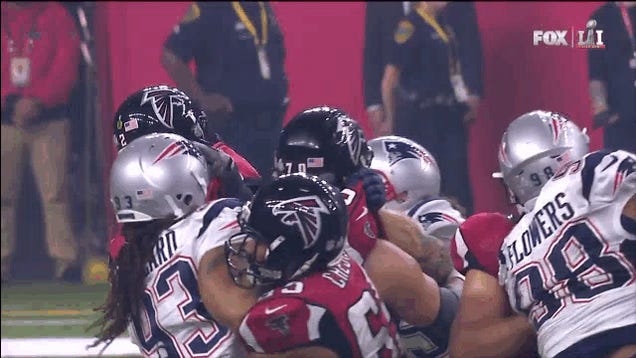 Later in the third quarter, watch as defensive end Jabaal Sheard flew around the edge to pressure Ryan into making a running throw that was dropped by tight end Austin Hooper: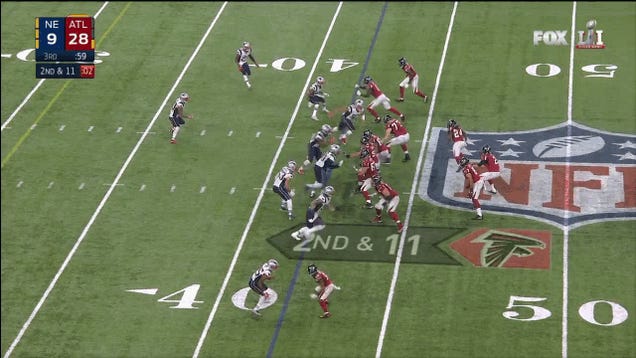 On the next play, the Pats brought a five-man blitz, with linebacker Kyle Van Noy looping into a stunt that allowed him and Flowers to eventually get to Ryan. Ryan may have wanted to throw to running back Tevin Coleman in the flat, but safety Patrick Chung immediately recognized where Coleman was headed and was there waiting for him: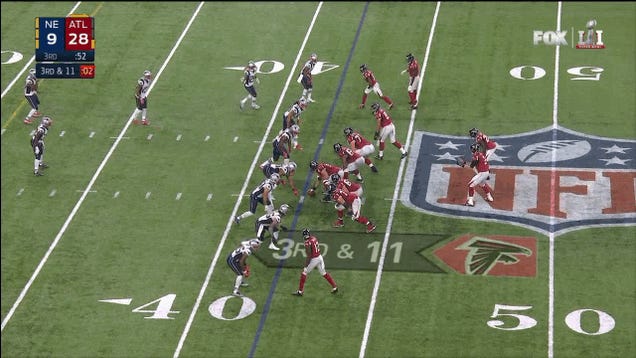 PFF said the Pats only blitzed Ryan eight times, or 28.5 percent of his dropbacks, which was just below the league's regular-season average of 30.5 percent. But as NFL.com's Bucky Brooks noted, several of New England's blitzes came in the second half, likely out of desperation to make something happen.
---
Let's return to the Falcons' missed opportunity to put things away. The Pats also ran a five-man loop-stunt blitz on the game-defining play that resulted in Hightower's strip sack. And there was one more wrinkle added by defensive coordinator Matt Patricia: Hightower rushed from the left side, rather than from the right, as he had been doing earlier. As Patricia said, per The Wall Street Journal:
"It was a call in the game plan in that situation that we might want to use. It was a little bit of a change up for that particular part of the field. It was a great job of disguise [by Hightower] in getting out there."
And here we can see that it was running back Devonta Freeman completely whiffing on Hightower that made the play possible. This was the pivotal play of the game.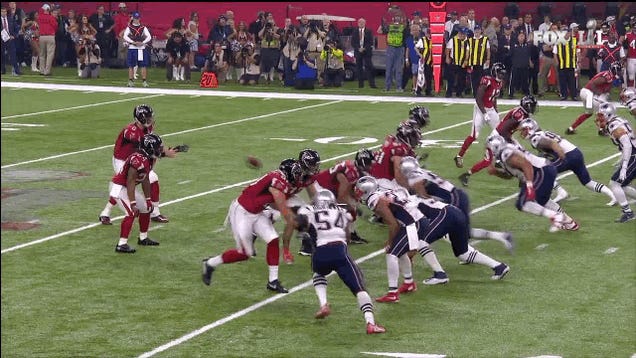 Why did Ryan not see Hightower? Probably because he had his eyes downfield and was about to uncork a deep throw to Taylor Gabriel, who had smoked Malcolm Butler and was wide open for what would have been a game-clinching touchdown. "We thought," Falcons head coach Dan Quinn would say later, "that was the opportunity to let it rip." In the hindsight of everything that happened to the Falcons, that might seem ridiculous. But the opportunity really was there: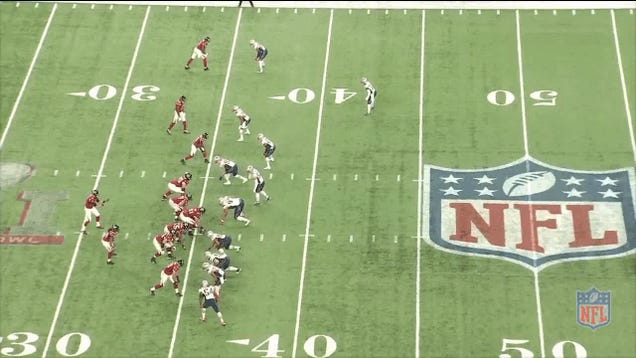 Remember, Julio Jones was only targeted four times all night because the Patriots bracketed him with two defenders. On the Hightower sack, Devin McCourty was the high safety, and McCourty trailed Jones across the middle, leaving Gabriel one on one with Butler. Gabriel used an inside-out move to blow by Butler, and he was two steps past him by the time Hightower got to Ryan. But Ryan was definitely winding up to get Gabriel the ball: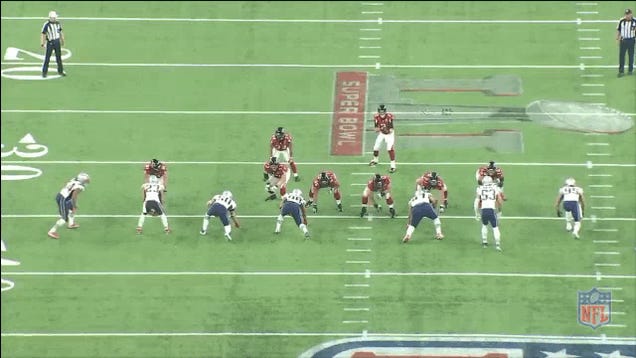 "I'm not sure we could have won without that play," Belichick said. "Without that," Belichick also said, "I don't know if we'd have enough possessions or could get it done quick enough." Which is correct. The Patriots needed many, many plays to break exactly as they did. That baffling minus-23 sequence included a sack, a hold, and an incomplete pass, right when three runs and a field goal would have put the game out of reach. But the Patriots did their thing, too, just as they had been doing all night, and they made the Falcons pay dearly for one player's lack of execution on Ryan's fumble. Tom Brady did the rest.
Source: http://deadspin.com/let-us-now-praise-the-patriots-super-bowl-defense-1792170043