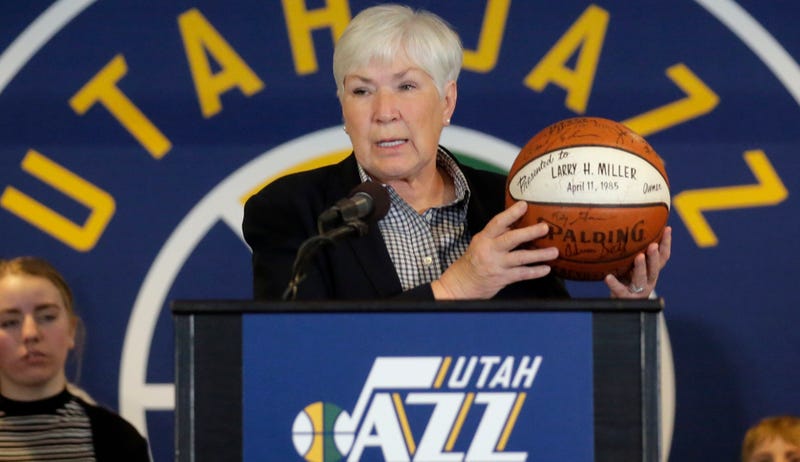 This afternoon, Utah Jazz owner Gail Miller announced that ownership of the team would be restructured and the team would henceforth be owned by a legacy trust. Miller and her husband Larry paid a total of $26 million for the franchise in 1985, and they've doubtless had several offers to cash out for a hefty profit. Larry died in 2009, and if Gail and the rest of the Miller family wanted to sell, they stand to make a shitload of money.
However, there's no guarantee that new ownership would be willing to keep the team in as unglamorous and small a town as Salt Lake City (or be as willing to pay for most arena costs), so that hypothetical sale would endanger the future of the NBA in Utah. Thankfully for Jazz fans, the Millers' restructuring will probably keep the team in town for a very long time. Under the new arrangement, all profits are supposedly earmarked to be invested back into the team, rather than back to an owner. From the Salt Lake Tribune:
Miller will serve as the trustee, and will eventually cede control of the franchise to a six-person board of managers, compromised of members of her family.

"It is as close as possible to there being perpetual ownership of a professional sports team," Miller's son, Greg Miller, said.

The board of managers will need either a majority or a super majority, depending on the nature of the business, to make future decisions for the franchise, attorney and former Utah Jazz president Dennis Haslam said.

Officials said the formation of the trust means all profits from the NBA franchise will be reinvested in the team so that the "trust will not provide any material benefit to the family from the Jazz."
While the provisions of the trust do not seem to explicitly forbid the sale of the team, without someone on their end to profit from such a sale, it's unlikely that the team will move anytime soon. The Jazz are renovating their arena this summer and the team is set to foot most of the bill (they did get over $20 million in tax breaks), so there's not an immediate need for a new arena and won't be for a while. If only more owners actually cared about their cities.
Source: http://deadspin.com/jazz-owner-creates-legacy-trust-in-effort-to-secure-tea-1791544866