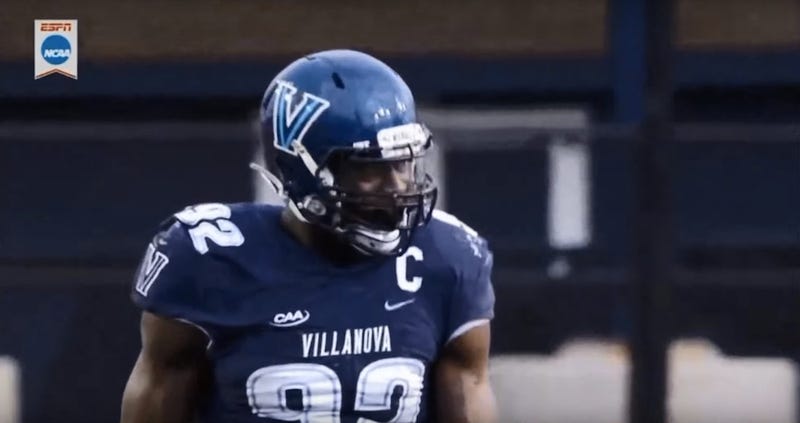 Impress your friends with your knowledge of the existence of this year's small-school NFL prospect: Tanoh Kpassagnon, a defensive lineman who played at Villanova. Listed at 6-foot-7 and 290 pounds, Kpassagnon went to this week's Senior Bowl and made at least one NFL executive tumescent. From Philly.com:
"First thing that jumps out is he's 6-7. He's 280 pounds, and he's cut out of rock," Eagles vice president of player personnel Joe Douglas said. "He's as body beautiful as it gets."
And from Pete Thamel of Sports Illustrated:
But if there was a moment when a darling of the scouting community went mainstream, it happened at the Senior Bowl's official weigh-in. During the awkward annual exercise, players are trotted out shirtless and wearing tights in front of executives. Kpassagnon has just 4% body fat, and his abs appear to have abs. So when he appeared before the masses, multiple NFL personnel men reported an audible gasp amid the crowd.
Kpassagnon has the size of Shawn Oakman without the moral bankruptcy that would come with employing him. His highlight reel shows him burning through tackles and eating up FCS competition:
Thamel spoke to anonymous scouts who projected Kpassagnon to be picked "somewhere around the third round." And we know those guys would never lie.
Source: http://deadspin.com/everyones-getting-horny-over-a-villanova-defensive-line-1791702523