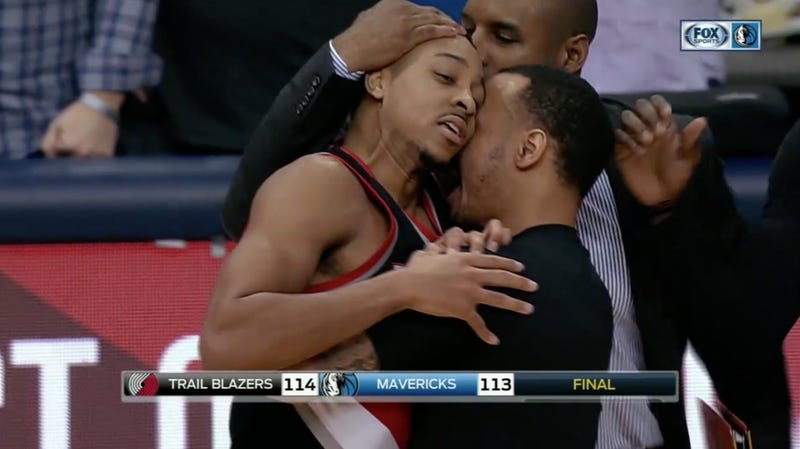 The Mavericks have been quite feisty over the past few weeks, quickly climbing out of the Western Conference toilet and into the group of bad teams contending for the eight seed. Tonight, they played the Blazers, a fellow mediocre contender to get waxed by the Warriors in the playoffs, and lost in one of the more entertaining finishes of the year.
Portland led on and off for most of the game, but Dallas took the lead with 4:15 left after a 13-0 run. After Damian Lillard got into trouble, a trailing Dirk Nowitzki ran onto the end of the play and tossed in a go-ahead three.
McCollum held serve and answered with a jumper of his own, then put the Blazers back up by two (after a Devin Harris bucket) with an and-1. So Dirk nailed an even better three.
Alas, McCollum got the last word, and he was aggressive as soon as he received the ball, hitting what ESPN's official play-by-play tracker classified as a "16-foot Driving Floating Jump Shot."
I'm sure that if Dirk got another opportunity, he would have drained another would-be game-winner, as he and McCollum looked content to swap huge shots ad infinitum. The big German is 38 and in possibly his last NBA season, but he can still light it up from time to time. Hopefully, the Mavericks' newfound competitiveness emboldens him to keep playing.
Source: http://deadspin.com/dirk-turned-back-the-clock-but-it-didnt-even-matter-1792116781