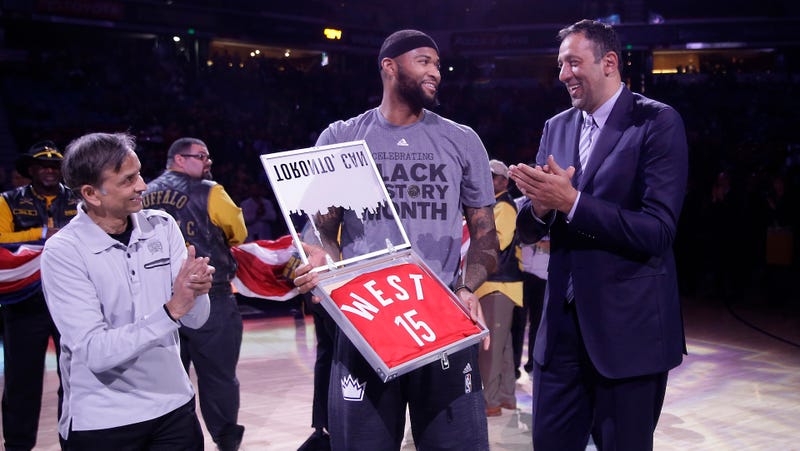 ESPN dropped a huge feature this morning that attempts to answer the eternal questions about the Kings: Can DeMarcus Cousins win in Sacramento, and who is to blame for the team's ever-present dysfunction? You should really go read the entire thing.
The piece gives good background on Cousins's ever-fluctuating relationship with Kings brass, makes a fairly convincing argument that the "Boogie Tax"—the handful of plays a game Cousins completely blows because he's mad about something—is high enough to offset much of his value, and reveals a few of his absolute worst behind-closed-doors eruptions.
It's January 2015, a few weeks after Malone's firing, and new coach Corbin is presiding over a film session. The team has fallen off a cliff in recent games, and Corbin has cued up a selection of video clips of the team's defensive errors. Much of Corbin's attention is focused on the Kings' porous half-court defense, and Cousins is receiving heavy billing. After a few short minutes, Cousins jumps up.

"Why don't we play film of all of this motherf—-er's mistakes?" Cousins shouts to the room, according to a then-teammate, pointing at Corbin. Corbin tries to explain that there's no intent to single out any one player's mistakes. Their recent performances, he says, have been teamwide failures. But Cousins is inconsolable. "Show 'em!"

Teammates don't intervene. Corbin again urges Cousins to calm down. Cousins instead walks out of the film room and doesn't return. When asked about the episode nearly two years later, Cousins confirms it — as well as his regular insubordination toward Corbin in practices, huddles and meetings.
But as a long-time chronicler of Kings front office ineptitude, even I was surprised by how irrational the team's basketball decision-making is.
The Kings' minority owners, who collectively own greater than 80 percent of the team but do not control it, have considered auditing the team in an attempt to force out majority owner Vivek Ranadive:
At the lowest moments over the past year, there have been fleeting thoughts among partners of an audit, as a means of exposing Ranadive's poor stewardship of the franchise's basketball operations. But nothing serious has been considered. According to sources with knowledge of the owners' thinking, though, resignation reigns; the way the ownership is structured, Ranadive is King of the Kings. Only a breach of fiduciary responsibility, or instances of gross incompetence, could force meaningful change. So long as the franchise resides solidly in the black, that's unlikely to happen.
There are a million guys in the draft room all trying to scare up deals:
The top brass could scarcely be less united. Disarray is the order of the day. One Kings source says that in 2015 there were as many as five owners in the draft room, one of whom was trying to make a side deal for a second-round pick.
Vlade Divac might be the least capable GM in the history of basketball:
Divac is the Kings' vice president of basketball operations and general manager. "Nobody in that position has ever been less qualified, less capable or a nicer person," says one league insider.
Several agents and executives who shared their thoughts on background have found working with the Kings to be confounding, and negotiations, in the words of one, to be "abnormal." They describe an organization whose constituencies cannot get on the same page, each guided by divergent philosophies and competing preferences. Those on the other side of the table say that not only is it difficult for the Kings to reach organizational consensus on a transaction but they have trouble coming together on the basic decision of even how to proceed. "Getting real proposals is a challenge," a rival executive says. "There's just so much ambiguity about how the decision-making process works [in Sacramento] and what information actually gets back to whom."
And the Kings were prepared to hire a head coach—their sixth in five years—without ever talking to him:
Divac, sources say, had been contemplating candidates such as Nate McMillan, Jeff Hornacek, Vinny Del Negro, Mark Jackson and Patrick Ewing to take over head-coaching duties. Ranadive, however, was told by league confidants that Joerger's relationship with the Grizzlies was on the rocks. Though it proved unnecessary once the Grizzlies let the coach walk, the Kings owner was prepared to offer cash compensation and a draft pick for Joerger, despite the fact that neither Ranadive nor Divac had met Joerger personally.
The Kings just opened a new arena, and by all accounts—though nobody gives Ranadive any credit for this—the business side is doing well, and the team is profitable. Which is really too bad, because it just means that this slow motion car crash will persist, and in 2022 we'll be talking about how Cousins has only been to the playoffs once in his career and wondering why the Kings traded a first-round pick for a 39-year-old Tony Parker.
[ESPN]
Source: http://deadspin.com/demarcus-cousinss-relationship-with-the-kings-is-just-a-1791662013