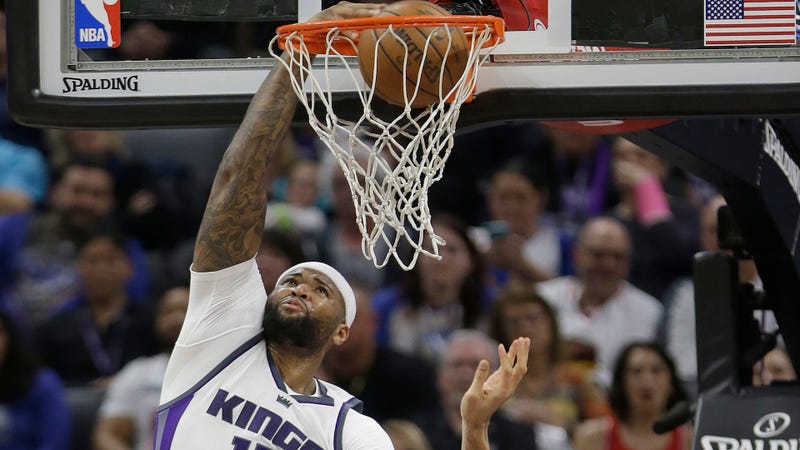 What should have been an easy win for the Warriors became an overtime upset, courtesy of DeMarcus Cousins and the Kings.
A near-triple-double from Cousins (32 points, 12 rebounds and 9 assists) helped power Sacramento to a 109-106 win in overtime, while the Warriors struggled as a strong performance from Steph Curry wasn't enough to overcome an especially weak night from Kevin Durant. The Kings' bench also stepped up to the plate, outscoring the Warriors' reserves by a margin of 45-16, with Willie Cauley-Stein shining in particular on 14 points in 17 minutes.
Curry scored 35 points on 11-of-20 shooting and was 8-of-14 from three, but he missed an easy layup that would have given the Warriors the win with five seconds left in overtime:
Durant, meanwhile, scored 10 points on 2-of-10 shooting and didn't attempt a single shot in overtime. The Warriors' situation was not helped by coach Steve Kerr getting ejected at the end of the third quarter, angry after a Draymond Green technical:
Cousins wasn't perfect—he faltered a bit through the last five minutes of regulation and then overtime, going 4-of-13 in that span, and he picked up an especially dumb technical for shouting at the refs with two minutes to go in a close game—but he was more than the Warriors could handle.
The loss dropped the Warriors to 0-3 in overtime games this seasons, putting their overall record at 43-8. The Kings are now 20-31.
Source: http://deadspin.com/demarcus-cousins-was-his-best-self-and-the-kings-took-d-1792016021