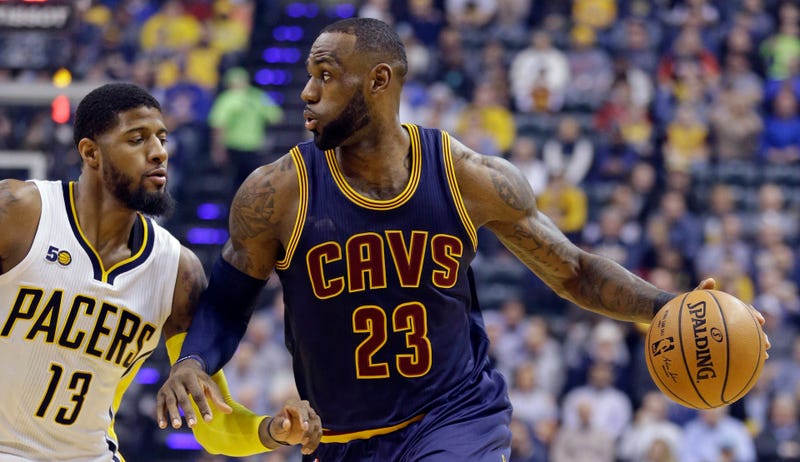 Since dropping a bizarre overtime game to the lowly Sacramento Kings, LeBron James and the Cleveland Cavaliers have righted the ship (on-court, anyway). They've gone 6-1 over their past seven and beat a Wizards team playing its best ball of the season earlier this week. For all the legitimate handwringing about the Cavaliers' lack of playmaking, they can still easily pulverize the rest of the Eastern Conference even when they're on cruise control. Take tonight's win over the Pacers.
Indiana held an 11-point lead after a quarter, but the Cavs scored 107 points over the next three quarters and coasted to a 15-point win. The Pacers have the tenth-most efficient defense in the NBA, and they got sliced up with ease. In their seven-game hot streak, the Cavs have scored over 107 points six times, and have topped 120 thrice. An offense that was bereft of creative energy (once you scroll down the roster past, it should be noted, two of the best creators in the NBA) has kicked into high gear with tremendous results. Kyle Korver had the hot hand tonight, hitting eight threes off the bench and scoring 29 points, the most he's scored since 2007.
The following play showed Cleveland at its terrifying peak:
Kyrie Irving is maybe second to only Steph Curry when it comes to dancing through the defenders in the pick-and-roll. Not only did he spin away from LeBron's pick and lose Jeff Teague, he immobilized Paul George with a little split dribble and created the angle to bounce it to LeBron.
James is strong and athletic enough to get around Myles Turner, jump in the air (usually a bad move! for anyone!), and read where Monta Ellis was rotating. Both Kevin Love and Kyle Korver are killers on the perimeter and more than capable of knocking down an open three. However, had C.J. Miles tried to cover the other one, Tristan Thompson gets an easy dunk.
This is fairly standard spread pick-and-roll stuff, but the Cavs simply have the personnel to make it hum at a frequency few other teams can.
[/r/NBA]
Source: http://deadspin.com/cavaliers-show-off-everything-thats-terrifying-about-th-1792158817