Settle down and enjoy this hot New York slice, flagged by Bleacher Report.
If you need a palate cleanser now, try the 16-point, 16-rebound showing by Willy Hernangomez, who helped the Knicks "storm" back into this one to win 95-90.
The 6-foot-11 Hernangomez scraped up second and third chances with his fingertips, flashed the occasional post move, and most notably connected on this pretty over-the-shoulder dish to a cutting Zinger, his former teammate from their playing days in Spain.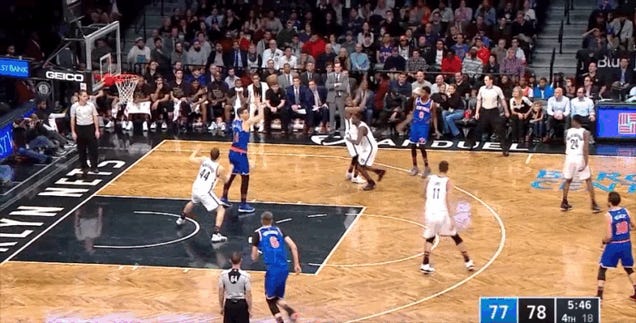 Kristaps later returned the favor with this shit; Willy salvaged the scrap.
Hernangomez, the Knicks' most viable center at this current moment, will earn $4,307,250 over four seasons. In that same span, Joakim Noah will get $72,590,000.
Source: http://deadspin.com/basketball-is-alive-and-well-in-the-big-apple-1791929912